GrayLog2 and MongoDB
Playing with GrayLog2. The server requires Mongodb + OpenJDK.
Got some nice screenshot of my virtualbox servers.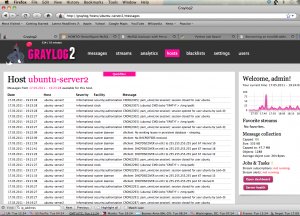 Forwarding rsyslog is done by creating a file /etc/rsyslog.d/graylog2.conf with contents below.

# Forward all logs to Graylog2
# Replace x.x.x.x with your own Graylog2 server IP
*.*     @x.x.x.x  #udp forwarding

Restarting the rsyslog will send log messages to GrayLog2 server.